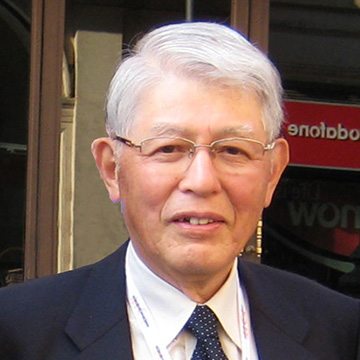 Curriculum Vitae of Naoaki Yanagihara: Honorary Professor Ehime University Medical School
Born: On January 6, 1932 in Kyoto city
Age: 87 - year - old
Native place: Kochi city in Kochi prefecture
Brief Summary of the Career
1957

Graduated from Kyoto University Medical School.

1958

Entered the Department of Otorhinolaryngology, Kyoto University Medical School.

1963

Obtained the Degree of Medical Doctor and Doctor of Philosophy.

1963

Assumed research fellow of the Institute of Laryngology University of California, Los Angeles and fellow of the House Ear Institute.

1966

Returned to the Kyoto University Hospital and assumed associate professor of the Medical School.

1976

Assumed the Professor and Chairman of the Department of Otorhinolaryngology and Head and Neck Surgery, Ehime University Medical School.

1997

Retired from the Professor of Ehime University Medical School and assumed Honorary Professor of Ehime University.

1997

Assumed the Director Ear Surgery of Takanoko Hospital.

2018

Retired from the Takanoko Hospital.
President of the International Meeting held in Matsyama
1991

The Second International Symposium on Transplants and Implants in Otology

1997

The Eights International Symposium on the Facial Nerve
Main International Academic Prize
1968

MANUEL GALCIA PRIZE awarded from the International Association of Phonation.

1989

The Special Prize of Film Festival at the 14th World Congress of Otorhinolaryingology awarded.

1991

The presidential citation American Academy of Otolaryngology-Head and Neck Surgery awarded.

1998

Elected Honored Guest given by North American Skull Base Society

2008

Elected Honorary Member of American Society of Otology.

2015

The Emperor of Japan awarded the Sacred Treasure, Gold Rays with Neck Ribbon for his contribution to medical science.