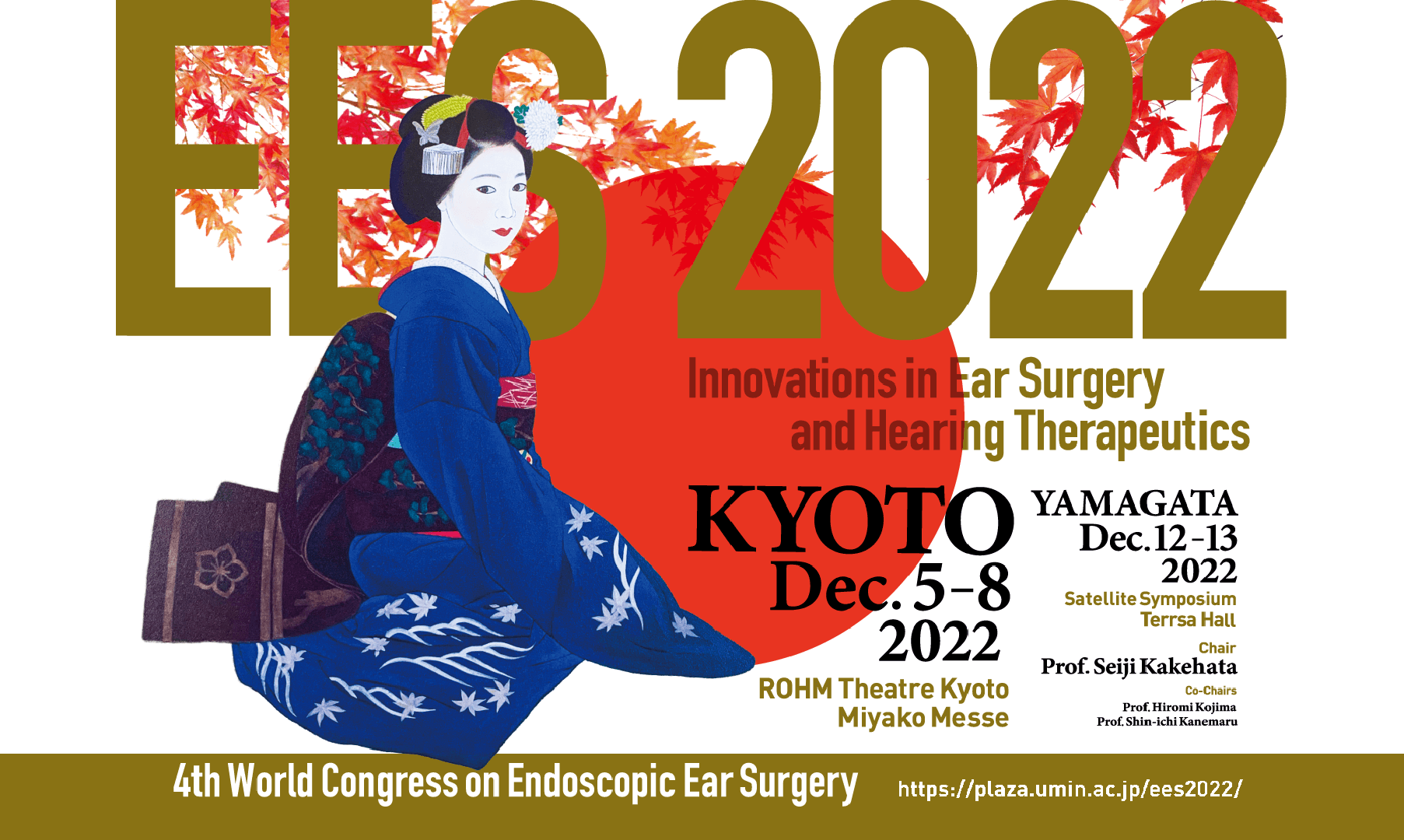 Abstract submission extended!
Good News for the Undecided and Procrastinators Among Us!!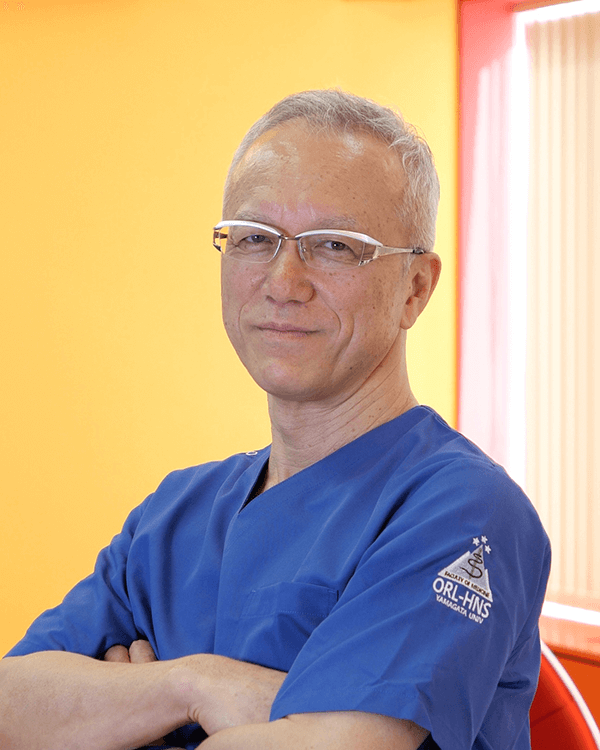 I wanted to let everyone know that we have extended the deadline for submission of Abstracts from July 1st to July 14th (Thursday) 12:00 noon Japan time.
If you were sitting on the fence about submitting an Abstract and let the deadline pass, we are offering you a second chance to let the international EES community know what you have been working on. EES is one of the most exciting areas of otology and we need to show the world what can be achieved through EES.
In addition, we are in the process of planning Panel Discussions, Round Table Discussions and Instructional Courses. We will also be reviewing the submitted Abstracts to see if the authors would be good candidates for participation in any of the aforementioned events.
So don't miss this opportunity and I look forward to seeing the submission of additional Abstracts.
Seiji Kakehata
Chair of EES 2022 in Kyoto
NEWS
June.10,2022

Announcement

I would like to take this opportunity to announce the addition of Dr. Yukiko Iino as a Co-chair of the EES 2022 in Kyoto.

Dr. Iino is a widely published Japanese otologist who has focused on ear surgery including endoscopic ear surgery, pediatric otology and improving the practice of otology in Japan through the drafting of national otological guidelines. Dr. Iino is currently an emeritus professor and visiting professor at Jichi Medical School located in Tochigi Japan where she serves as the chief of staff of the Department of Otolaryngology/Deafness and Middle Ear Surgicenter. She has also served as the Chair of the Japan Society of Pediatric ORL from 2015 to 2017.

The 4th World Congress on Endoscopic Ear Surgery in Kyoto will greatly benefit by the presence of Dr. Iino, and I want to extend my sincere thanks to her for agreeing to join us.

Seiji Kakehata, M.D., Ph.D.
Congress Chair

May.13,2022

To the EES Worldwide Community,




I hope that you are all doing well. I would like to take this opportunity to update everyone on the status of the EES2022 in Kyoto.




The 4th World Congress on Endoscopic Ear Surgery will be held, as scheduled, from December 5th to the 8th, 2022 in Kyoto Japan with the Satellite Symposium held from December 12th to the 13th in Yamagata Japan. Both events will be held live face-to-face with no live streaming.




Thus, it is now time to start making your plans to attend!




The Japanese government has begun to lift restrictions on business visitors from overseas and there is talk of allowing tourists to enter in the near future. We will provide further information at a later date on the visa situation, but also please check with the local Japanese embassy in your country for further information and updates as the Congress date approaches.




The Call for Abstracts will be opened from May 12th, and I am looking forward to seeing what everyone has been working on in the years since our previous World Congress in Boston.




We will also be announcing the opening of registration for the 4th World Congress on Endoscopic Ear Surgery in the near future. Please stay tuned for further information in this regard!




It is an understatement to say that it has been a longer than usual journey to the 4th World Congress with many unforeseen challenges and bumps in the road. I am truly grateful for everyone's understanding as we have navigated those challenges.




I am optimistic that we will be able to raise a glass of sake (or your beverage of choice) in December to toast the success of the 4th World Congress on Endoscopic Ear Surgery in Kyoto.




Seiji Kakehata, M.D., Ph.D
Congress Chair

Dec.16,2022

ATTENTION TO ALL INTERESTED PARTICIPANTS

4th World Congress on EES in Kyoto to Move to December 2022
I think that the past year-and-a-half has taught all of us around the world that nothing scheduled is set in stone! When I moved the 4th World Congress on EES in Kyoto to April 2022, I was confident that the challenge of COVID 19 would be overcome by then, and that international travel restrictions would be lifted. However, the last couple of months have made me realize that that timeline was too optimistic. In light of the spread of the delta variant and increasing case numbers around the world, I have made the decision to once again move the date of the 4th World Congress on EES in Kyoto.

Our new date is now December 5th to the 8th of 2022. While I realize that this date is close to the end-of-the-year holiday season, it was the best choice out of the available dates for our venue. The weather in Kyoto in early December is mild and while we will miss the Kyoto cherry blossoms, the city should still be beautifully bathed in the fall foliage including its stunning maple trees.

I thus ask everyone to pencil this new date and cross your fingers that we will have COVID 19 under control by then. While our conference is important to those of us in the field of endoscopic ear surgery, it pales in importance to the good health and well-being of the world community at large. Let us all continue to work together to defeat COVID!
I hope to see you in Kyoto in December 2022!



Seiji Kakehata
Chair of the 4th World Congress on EES in Kyoto 2022

April. 4, 2022

Now our preparation is in progress. The online submission form will open before May 1.

May. 1, 2021

The Chair of the 4th World Congress on Endoscopic Ear Surgery, Dr. Seiji Kakehata, sat down for an interview with Dr. Tatsuya Yamasoba of the University of Tokyo for ENT & Audiology News. They discussed a number of topics including endoscopic ear surgery and preparations for the 4th World Congress. You can read the interview at (www.entandaudiologynews.com ) or download the PDF here.


April. 30, 2021

Dr. Naoaki Yanagihara, a leader in otology in Japan and the developer of the Yanagihara Scale for evaluating facial nerve palsy, was scheduled to be honored as a pioneer of endoscopic ear surgery during the 4th World Congress. However, we were greatly saddened to be informed that Dr. Yanagihara passed away at the end of 2020. We shall thus be presenting a special memorial tribute in honor of his life and achievements.

Dec. 23, 2019

・Notes from our chair
Greetings to everyone!

We are starting to gear up for the World Congress on Endoscopic Ear Surgery in Kyoto which will be held in less than a year-and-a-half! It was my pleasure to recently welcome Dr. Aaron Remenschneider from Harvard and his lovely wife Emily to Kyoto where he gave a presentation at the 2019 Japan Audiological Society.

We were able to show them around Kyoto and they were kind enough to describe their impressions of the city in a blog posting. For those of you who are thinking about attending the World Congress, I think that their perspective should give you a good idea of what you could expect on a trip to Kyoto.

I thus invite you to read what they have to say and see if you wouldn't like to follow in their footsteps!?

Seiji Kakehata 

Jun. 13, 2019

Website launched. 
About the 4th World Congress on Endoscopic Ear Surgery
Chair

Prof. Seiji Kakehata

Co-Chairs

Prof. Hiromi Kojima
Prof. Shin-ichi Kanemaru
Prof. Yukiko Iino

Date

December 5-8, 2022

Venue

ROHM Theater Kyoto & Miyako Messe

Official Language

English