What is the University of Tokyo Medical Innovation Initiative?
The Ministry of Education, Culture, Sports, Science and Technology began "New Paradigms ?
Establishing Centers for Fostering Medical Researchers of the Future" in 2013.
This project has the goal of cultivating talents (personnel to promote medical innovation) who will resolve the medical issues that accompany problems such as rapid advancement of an aging society, as well as contribute to development of medicine inside and outside Japan and vitalize the medical industry.
The University of Tokyo has been selected as one of the centers for this project, and has begun to implement activities as part of "Medical Innovation Initiative" - Beyond Horizons".
Our Mission
We will nuture personnel who will discover medical needs and plan projects in order to resolve them, and possess the ability to develop new medical technology, new medical systems, and a new medical industry through broad collaboration with personnel around the world from different fields.
* Technology
* New Scope
* Social responsibility, culture and, cross-border / global solutions.
Our Vision
We will produce personnel who are able to demonstrate superior management skills and promote translational research that leads to medical innovation.
Our Promise
We will nurture personnel who take leadership in medical innovation to build a sociey where people live healthier and happier lives.
Key Attributes to be Strengthened
* Scientific
* Proactive
* Global Perspective/Diversity
* Ethics/Openness/Honest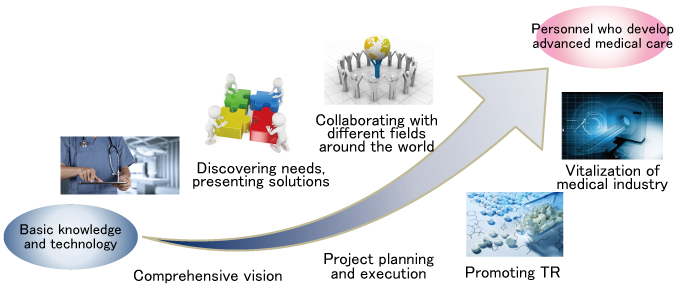 Translational research (TR) is research that aims to translate findings in basic research into clinical practice.
Message Our Logo Conveys
"Medical Innovation Initiative: Beyond Horizons" It projects a vision of hope that will bring enormous rewards to the global community. It is also scientific and medical challenge. Innovation demands breakthrough beyond the existing norms, and leaders need explict sense to break through a barrier. We, the Univeristy of Tokyo will encourage progress attitude toward the initiative with focused and passionate mind.