Neonatal Research Network Database Japan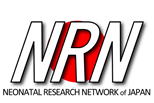 ƒIntroduction"
A neonatal research network database was established in 2003 with a grant from the Ministry of Health, Labour and Welfare, Japan, then its operation was transferred to Non-Profit Neonatal Research Network Japan Organization, which was partly supported from the Japan Society for Neonatal Health and Development. The database provides the morbidity and the mortality of the registered infants.
ƒSubjects"
All infants who were born in the participating hospitals with gestational age less than 32 weeks and with birth weight at or less than 1500g admitted to participating facilities within 28 days after birth are registered in the database. Those infants who were born alive but died in a delivery room are also included. As of January 1, 2018, 192 perinatal centers are participating in the network.
ƒMethods"
According to a Network Database Operation Manual, all eligible infants are recorded (see details at Pediatrics 2006;118:e1130-8).
ƒResults" As of 06/01/2020
ƒArchives"
1D10 Year Anniversaty Special Report
2D10 Year Anniversaty Special Report (additional analyses)
3D10 Year Anniversaty Special Report Vol. 2(additional analyses)
4DNICU Manual for Extremely Preterm Infants
You can use the above materials freely, but we would appreciate it if you can make a donation to NPO Neonatal Research Network of Japan. Donation Form
iOfficej
More information, please contact to:
Satoshi Kusuda, M.D.
NPO Neonatal Research Network, Japan
Email: nponrn-office@umin.ac.jp